April 29, 2020

The new normal is frightening in more ways than one. Besides threatening the health of Jamaica's, it is wrecking our economy. But there's a silver lining to this storm cloud as Jamaican entrepreneurs seize on business opportunities to produce reusable masks, hand sanitizers and care kits. And some are offering curbside pickup. Read how our ingenuity is responding to this pandemic:
Masks
Even before the World Health Organization changed its previous stance on masks, Jamaican customers were looking to get them. Now that experts have revised this position, we're seeing an increase in local micro, small and medium businesses producing cloth masks for sale.
Under the guidance of the Jamaica Business Development Corporation, local fashion designers have put their expertise to designing masks that not only meet the ministry's specifications but also catch the eye. This has helped some make up for income they've lost due to the pandemic.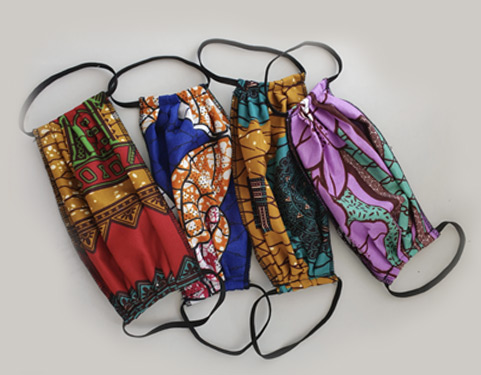 (Image courtesy of Tamia Carey)
For others, like Tamia Carey, there is also a deeper motivation. She told the Gleaner: "I hope that my cost per mask will also cover what I am planning to donate. It is a great concern to me because we are a poor country and our needs are great."
Hand sanitizers
Within days of the pandemic arriving in Jamaica, our stock of hand sanitizers plummeted. While we still advise against buying in bulk, local beauty brands have stepped up to fill those empty shelves.
Like the designers, these professionals are merging their expertise with government mandates. Skincare company, L'Jhean Beauty ensured its hand sanitiser fit in with its goal of helping customers "achieve healthy beautiful skin." In addition to the recommended 70% isopropyl alcohol, it added ingredients like vitamin E oil, to keep hands moisturized, and lavender to ensure it smelled "awesome".
Product Combos and Care Packages
Some retailers have created pre-packaged "kits", bundling products for customers. To fight lockdown stress, Fontana Pharmacy, advertised a "Quarantine Self-Care Kit". Essential items, like hand sanitizer and antibacterial wipes, have been combined with "self-care" items, like "rejuvenating" sheet masks, for a do-it-yourself "spa day."
With social distancing, curtailing many parents' birthday plans for their children, one new company, "Decurate JA", created a "Zoom Birthday Party Box". Named for the video conferencing platform, the company advertises the package as a way to keep birthday fun going in this new normal. Customers order pre-made or customized boxes, full of children's party essentials like banners, party hats and loot bags, for the birthday boy or girl and their friends to enjoy during a virtual party.
Food Delivery and Curbside Pick up
As the country's food industry adjusts to the government's response to the pandemic, several local eateries now let customers order and get their food without leaving their home or car.
Food delivery services are not new to Jamaica, but business has surged for these companies as persons try to order from their favourite establishments. KFC, for instance, recently announced a new partnership with 7Krave that will allow Jamaica's storied love affair with the "Colonel" to continue even if we can't be together in person.
While people still frequnet supermarkets, they, too, now offer delivery and curbside pick-up. Major grocers like HiLo now let customers place orders via WhatsApp at select locations islandwide. In direct response to the COVID-19 crisis, members' club PriceSmart deepened its ties with logistics company Mailpac for customers to shop the store's entire inventory via Mailpac's e-commerce platform and have orders delivered to their house.
While there is no sign of COVID-19 leaving us any time soon, local businesses have shown their ability to adapt to market needs and stay afloat in this everchanging environment.