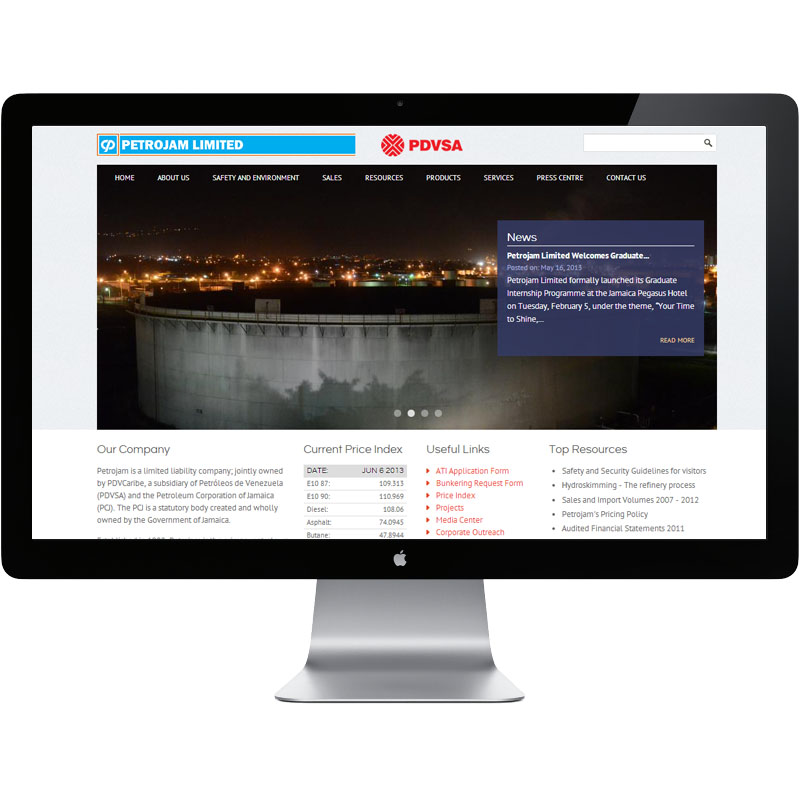 Overview
Custom designed solutions for specific business needs
Panmedia develops websites on the Drupal platform using Standards Compliant code to enhance search engine friendliness, improve accessibility and ensure cross-browser compatibility. We use AJAX (Asynchronous JavaScript and XML) to enhance site responsiveness and accessing content intuitively, and the LAMP (Linux, Apache, MySQL, PHP/Python) platform for backend components.
Microsites & Landing Pages
Plan and execute your special events or projects with a purpose specific micro site that can supplement a primary website. We design and host landing pages for targeted online advertising. Call 927-3266 or email our Marketing department.
eCommerce
We create online stores that track inventory, handle billing and sales reports and that can integrate with Jamaican commercial banks and PayPal. Call for a demonstration or email our Web department.
Maintenance & Hosting
We offer site maintenance, and hosting that gives exceptional response times. Call or email our Web department.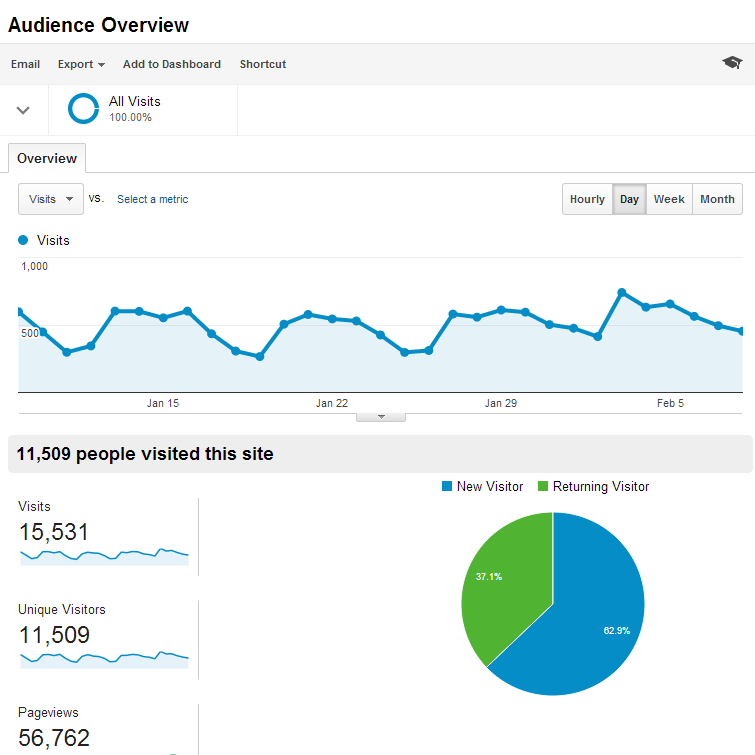 Analytics
We provide dynamic, informative web stats powered by Google Analytics. After extensive evaluation of the range of products available in the market we have concluded that Google Analytics is the most effective package to help you learn about your visitors and take action based on that information. It will meet and exceed all of your requirements.
In addition to setting up the site metrics package, Panmedia can provide training on interpreting the results and create custom reports for your specific needs. Panmedia can also add tracking to your current website to help gather information about your existing user base before we even start building your new site. The user profile we can draw from that will help to inform your content.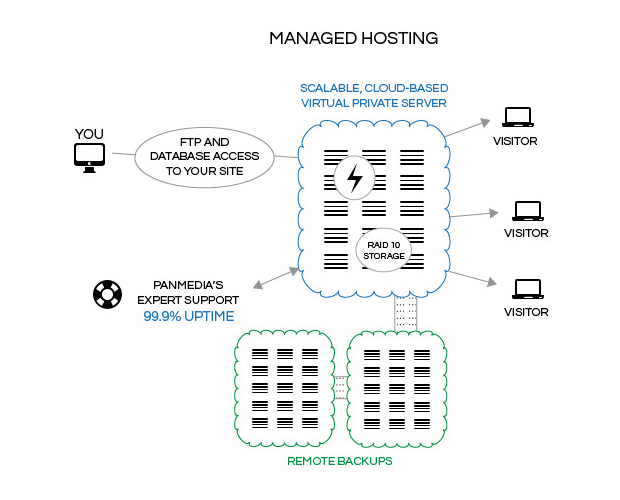 Managed Hosting
Panmedia partners with a reliable hosting company located in Virginia to deliver a world class Internet presence. We offer a range of additional services beyond what is available from your typical hosting provider to ensure the reliability and availability of your website.
We deal with the technical aspects of managing your website so that you don't have to. This is known as Managed Hosting.
Security and Reliability
Automated web and database backups.
Proactive remote monitoring of service availability.
Troubleshooting and problem solving for all hardware and software related issues.
Technical Management
Management of FTP accounts DNS records.
Management and renewal of domain names and SSL certificates
Bonus features
Full FTP and database access to your site
Optional backup delivery to a local or remote FTP or SSH server of your choice
Free server setup
Free domain name setup
| Feature | Starter | Business | Professional |
| --- | --- | --- | --- |
| Storage | 1GB | 5GB | 10GB |
| Storage type | SSD Data Disk | SSD Data Disk | SSD Data Disk |
| Data Redundancy | RAID 10 | RAID 10 | RAID 10 |
| Incoming transfer | Unlimited | Unlimited | Unlimited |
| Outgoing transfer | 5GB | 15GB | 50GB |
| Virtual CPUs | Up to 8 | Up to 8 | Up to 8 |
| Databases (MySQL or PGSQL) | 1 | Up to 5 | Unlimited |
| Site uptime monitoring | Yes | Yes | Yes |
| Daily site and database backups | Yes | Yes | Yes |
| Public network speeds | Up to 1.6Gbps | Up to 1.6Gbps | Up to 1.6Gbps |
Contact us for larger packages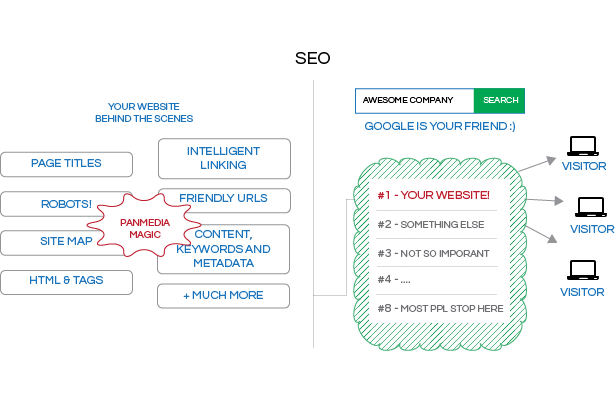 Search Engine Optimization
Once your website is up and running, Panmedia will apply our skills and expertise to help drive new visitors to your site.
Careful attention to site structure, URL format and metadata will ensure that search engines rank your site optimally and help your visitors find what they are looking for. We also employ several other techniques to accelerate the process of having your site show up in the search engine indexes and to ensure that your site is well positioned.
These techniques will also be continually revised and updated where possible, to further increase site ranking in search engine results. These activities help to make your company be seen on the web as a premier provider of a particular product or service.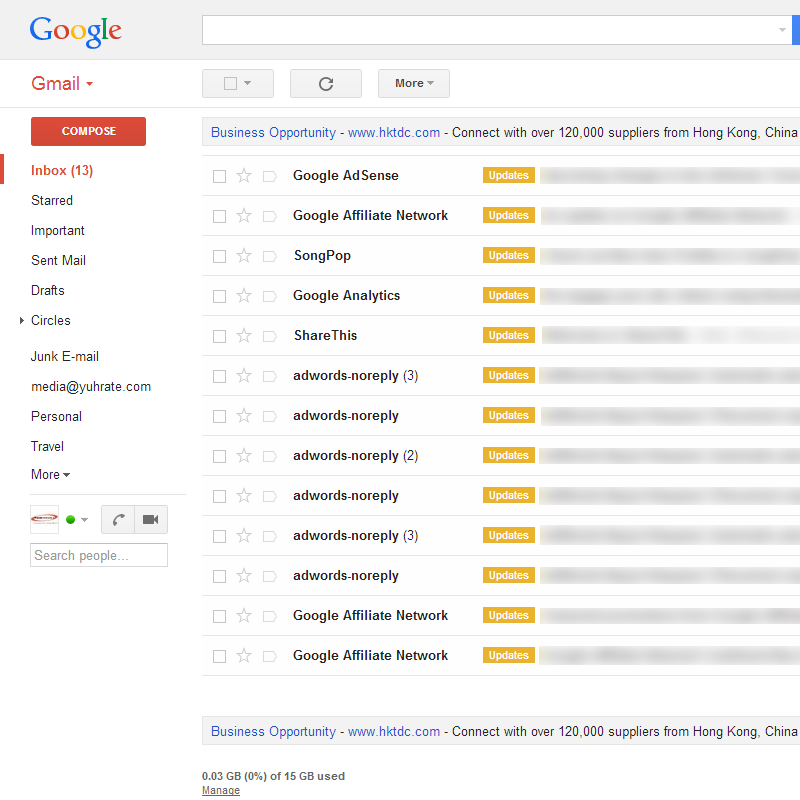 Email Hosting
Panmedia does not facilitate email hosting. Instead we recommend Google Apps for Business to our clients, which provides a powerful mail server to handle your company's emails. Your emails will match your business's web address (eg. jsmith

yourcompany.com).
Google Apps for Business uses the Gmail engine to deliver your messages and works on any computer or mobile device with a data connection. Gmail can be synchronized with popular email clients such as Microsoft Outlook, Apple Mail, Thunderbird etc. with support for both POP and IMAP.
Panmedia can assist your IT staff in setting up this service for your company and provide them training to manage these accounts in the future. If chosen, we will assess the level of consultation that you will need and provide an estimate based on our involvement that we anticipate.
The Gmail engine provides a wide array of features including but not limited to:Offline support
Up to 25GB space per inbox
Powerful search
Labels and filters
Sync with Calendar
Email delegation
Personal language translator
Powerful SPAM filter
24/7 customer support from Google
In addition, your account will have access to a number of other Google services such as Google Drive, Docs, Sites, Chat + more.